The Leadership Team consists of the pastor of the two parishes and two principals.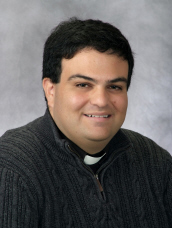 Father John Betters: Fr. John is the founding Pastor of Ss. Robert & William Parish. He was appointed by Bishop Richard Lennon on January 3, 2010. He was ordained on May 17, 2003 by Bishop Anthony Pilla at St. John Cathedral. His home parish at the time of ordination was St. Christopher in Rocky River. He served as Associate Pastor at St. John Vianney in Mentor and St. Mary in Hudson before coming to Ss. Robert & William Parish. He is the oldest of six kids, with four brothers and a sister. He grew up on the west side of Cleveland, spending the most time in Westlake at St. Bernadette Parish. He went to St. Ignatius High School, John Carroll University, Borromeo Seminary and St. Mary Seminary. For fun, he loves to spend time with his friends and babysit his nieces and nephews. When asked what he loved most about being Catholic, he responded that the Eucharist was most meaningful. As a priest he loves spending time with people of all ages and being a part of their lives. He is humbled and honored to be the Shepherd of this parish community.
---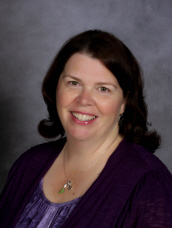 Ms. Meg Cosgriff: Ms. Cosgriff began her journey of faith right here on this property. She received her Sacraments of Initiation (Baptism, First Holy Communion, and Confirmation) in what was then St. William Church. Her love of Catholic education began when she entered Saint William School as a first grader many years ago. The parish priests and the Ursuline Sisters helped her to treasure and rely on the faith instilled in her by her parents and siblings. She was a member of the Class of 1979. Ms. Cosgriff continued her education at Regina High School and Ursuline College. Her faith was nurtured and her love of learning was fostered in these institutions. When she graduated from college, she was steadfast in her desire to become a teacher in a Catholic School.
Ms. Cosgriff began her teaching career at St. Christine School in Euclid and continued at St. Clare in Lyndhurst and St. Mary Magdalene School in Willowick. Her passion was helping students love math as much as she did! In 2000, after ten years in the classroom, she earned a Master's degree in Educational Administration from Ursuline College. She felt it would be a privilege to touch the lives of children beyond those in a classroom. She was the principal of St. Jerome School in Cleveland and St. Ann/Communion of Saints School in Cleveland Heights before, in 2012, returning to Euclid and Ss. Robert and William School.
As a life-long resident of Euclid, and a member of Saints Robert and William Catholic Parish, she is thrilled to be the principal of this cutting-edge school. If you stop by her office in the school, you will see her SWS Diploma proudly on display! She feels so blessed to be home!
---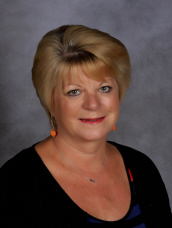 Mrs. Martha Dodd: Mrs. Dodd is the youngest of four, two brothers and a sister - from an Irish Catholic family, rich in love and laughter. She was educated in Catholic schools: St. Margaret Mary for grade school, Regina High School (Class of 1979), and Notre Dame College of Ohio where she earned a Bachelor of Arts Degree and a teaching license. In 1983, Mrs. Dodd began her teaching career at St. Felicitas as a 4th grade teacher. She taught in various grades for 13 years and served as assistant principal for 11. Upon earning her Master's Degree in Educational Leadership and Administration, she was appointed principal of St. Felicitas / St. John of the Cross in 2009. St. John of the Cross School partnered with Ss. Robert and William Catholic School in the 2014-2015 school year, and Mrs. Dodd is currently serving here as the Principal in the K-8 building.
Mrs. Dodd treasures her career in Catholic education and considers her role not as a job, but a ministry. She is a long-time resident of Euclid where she lives with her wonderful husband. Her pride and joy are her three sons. In her spare time, Mrs. Dodd enjoys walking and riding a bike. Reading is a passion. She is an active member of St. John of the Cross Parish and serves as a Eucharistic Minister. She also is a member of the East Side Irish American Club where she enjoys participating in and attending events sponsored by the club.
---